Chris Kreider Clothing Style: EA Sports Hockey T-Shirt
Chris Kreider, player for the New York Rangers, wore this EA Sports Hockey T-Shirt at a charity event. This 16-Bit video game T-Shirt is available at Sportiqe.com
Chris Kreider's outfit comes from the EA Sports collection. This collection is comprised of video game T-Shirts celebrating the EA Sports franchise through retro, 16-Bit graphics.
Here's a better view of Christ Kreider's clothing:
Do you believe in miracles? If you do, then go for the gold in this throwback 16-bit EA SPORTS Hockey player t-shirt.
Super soft tri-blend material made of 50% polyester, 25% cotton, 25% rayon

16-Bit Hockey player graphic in red, white and blue

True to size fit
Sizing: COMFY
It's rare to see Chris Kreider's clothing style outside of his Rangers uniform. When he's not on the ice, Chris Kreider's style includes a lot of cold-weather gear and long-sleeve shirts.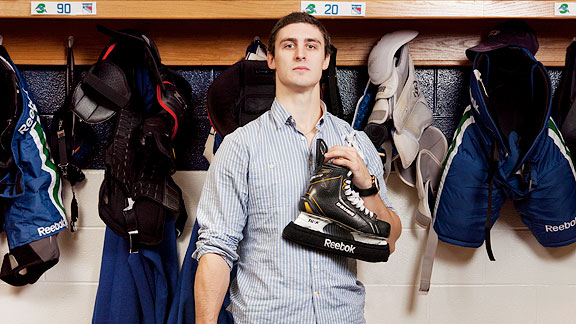 We think these other Sportiqe shirts would fit Chris Kreider's style and keep him from getting cold on the ice:
Want to see more celebrities and athletes who wear Sportiqe? Subscribe to the Sportiqe Newsletter.