Josh Hopkins Clothing Style: Brooklyn Nets T-Shirt
Josh Hopkins was spotted in this vintage Brooklyn Nets T-Shirt. The t-shirt in Josh Hopkins' outfit can be purchased here.
Josh is best known for playing Grayson Ellis on the TBS series Cougar Town.
Here's an closer look at Josh Hopkins' apparel:
Features:
Distressed screenprint graphics
Cotton and polyester blend provides superior comfort
Natural color with ribbed knit collar
Officially licensed NBA apparel
Slim Fitting
Sizing: OATS
When he's not on set, Josh Hopkins' style ranges from a casual look with a t-shirt and shorts to a fancier outfit consisting of a sweater over a button-up shirt and a tie.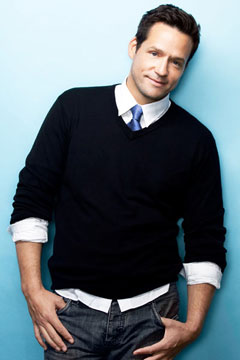 Since he is a Brooklyn Nets fan with a diverse fashion sense, we think these other Brooklyn Nets shirts would be a good fit for Josh Hopkins' style:
Want to see more celebrities and athletes who wear Sportiqe? Subscribe to the Sportiqe Newsletter.