Megan Hilty Clothing Style: Hello Brooklyn T-Shirt
Megan Hilty was recently spotted in this vintage Hello Brooklyn t-shit. The Hello Brooklyn shirt is available for purchase at Sportiqe.com.
Megan Hilty is well known for her role on the TV show Smash. Broadway fans might also recognize her from her roles as Glinda in Wicked and Doralee Rhodes in 9 to 5.
Here is some more information about the Hello Brooklyn T-Shirt Megan is wearing:
Features:
Hello Brooklyn screenprint graphics
Machine Washable
Ultra comfy 50% cotton, 25% polyester, 25% rayon blend
Officially licensed NBA apparel
Sizing: COMFY

 
Megan Hilty's style is very feminine and flirty. She often wears figure-flattering dresses or cardigans for a stylish look.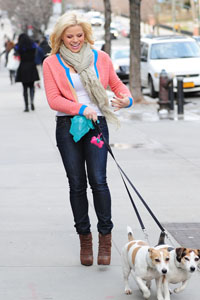 Based on her casual, feminine style, we think Megan would enjoy these other two styles from Sportiqe:
Like the rest of Megan Hilty's outfits, the DIXIE top and TYLER shirt are figure-flattering and stylish. But, like Megan's cardigans, they fit loosely for a comfortable outfit.
We also think Megan Hilty's style could pay homage to one of New York City's biggest restaurants, Carnegie Deli.
Since she spent so much time performing on Broadway, wearing a Carnegie Deli shirt paying tribute to the nearby restaurant could make her nostalgic. Plus, the shirt also has the same loose and feminine fit as Megan Hilty's clothing style.
Want to see more celebrities and athletes who wear Sportiqe? Subscribe to the Sportiqe Newsletter.